Our Customers and Testimonials
What are our customers saying about us? We are fortunate to have made connections with so many wonderful dog people over the years whether through a friend-of-a-friend, word-of-mouth, or this website. The Fly-n-Gun Kennel family is now spread out all over the United States.
Often we get words of thanks through a conversation or a quick text message. However, on occasion a customer will send us a written message. Below are words that a few of our customers have kindly shared with us.
---
We joined the Wisconsin German-Shorthair Pointer Rescue program in January '09. About a week or so into the process we were contacted about a recently surrendered dog that was placed in a foster home in our area. Well, we fell in love with him the minute we placed eyes on him. That's when Jasper entered our lives.
We didn't really know from the start what we were getting ourselves into. Since Jasper was a rescue dog, he started out very shy and timid. We mistook this as a sign to try to comfort and familiarize Jasper to us and his new home. Unfortunately that backfired. We didn't want to go for walks because it was a total struggle- either he drug us up & down the block or got tangled up at our feet. We didn't want to be in the house because he ran around frantically! He was constantly jumping around and knocking us down. He'd race us up & down the stairs and to the door. And then it got worse! Jasper had been with us about 2 months now and we had a crate for him to be in when we were gone and at night. Well, he's so clever that he knew how to pee outside of the crate... so we'd come home to a puddle to clean up while he stayed totally dry! We again mistook this as a sign something must be physically wrong with Jasper. We spent quite a bit of money at the vet on tests to find out we were wrong. He was completely healthy. We take him home and it gets worse! Now, not only did he pee out of the crate, but he'd bark, howl, and whine all night and anytime during the day that he was in the crate. So we go back to the vet. From that point Jasper is diagnosed with 'separation anxiety'. ( It was a little later down the road that we discovered we were wrong once again, but we're getting to that!) We did our research on the internet for more info about this disorder and any possible solutions or cures. What we discovered is that the only solution out there is medication. Well, we weren't comfortable with that solution so we were in what seemed to be an impossible situation. We had to consider surrendering Jasper, again. But the thought of that broke our hearts. So after another week of sleepless nights, frustrated days, and another bottle of floor cleaner we reached out to everyone we know with dogs for help. That's when a family member referred us to Fly-n-Gun kennels, and we met our "lifesavers", Craig and Teri Steinbach.
Because of the unique situation we were in with Jasper we didn't know if sending him 'away' for training for that amount of time would help or hinder our situation. We wanted to get Craig's feedback beforehand, so we had a phone consultation. We liked what Craig said and the advice he had given over the phone was working, so we decided to have a personal consultation so we could see for ourselves the process firsthand and make our decision from there. After meeting with Craig and seeing the process we decided this could be just what Jasper needed. We sent him for 6 weeks of basic obedience training. It was through the obedience training that we learned that Jasper did NOT have 'separation anxiety' but that OUR actions had led him to become the dominant dog of 'our' pack! We discovered we needed some training of our own.
After several updates from Craig on Jasper's progress, it was finally time to re-unite! We couldn't believe the changes in Jasper when we saw him working with Craig- he was such a good dog! But when Jasper got to greet us he thought things were just going to go back to "normal". Jasper immediately tried to regain his dominance over us by barking, whining, and jumping on us. This is where our training comes in! Craig took the time to show us his techniques; how and why he uses them, so we'd have the control and dominance over Jasper. We were now the dominant dogs of 'our' pack.
When we got home we were just astonished at the changes in Jasper. We had a new dog! We could now enjoy life. We could do all the things we never thought possible! Like going for walks on or off-leash. We can relax in the house or the yard without the worry of him running around or running off. We can crate him without a puddle to come home to or noises all night. We get compliments on Jasper wherever we go about what a good dog he is. We finally have the dog of our dreams! The training Craig accomplished in those few weeks would have taken us years to achieve. We really couldn't have a dog like Jasper if it weren't for Fly-n-Gun kennels. And that's true in more ways than one.
The training process and techniques that Craig uses unleashed Jasper's heart, soul, and drive to hunt. It was also through this process that we learned Jasper is a bit gun shy. And this is where his heart and soul take over- Jasper's got enough drive to chase that he works his way past the fear; he just wants to chase and chase and chase! Without Craig's knowledge and dedication to the dogs he trains we wouldn't have discovered Jasper's true potential.
Jasper's behavior continues to exceed all our expectations. And, we are fully committed to maintaining a happy and healthy dog. We believe in what Fly-n-Gun has done for us and Jasper, so we continue taking him back for refresher courses and more advanced training. We really don't know where we'd be without Fly-n-Gun kennels and Craig & Teri. Thank you from the bottom of all our hearts! -- Keith and Teresa Trzebiatowski of Milwaukee, Wisconsin
Photo of Jasper.
---
Thank you for taking the dominance and gun shyness out of Maci and making her a good hunting dog. Her first year was great thanks to you. She did well, making 33 retrieves.
I recommend you to other dog owners with complete confidence. -- Dan Hirt of Medford, Wisconsin

Photo of Maci.
---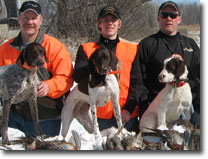 We have known Craig and Teri Steinbach since at least 1998, and have had the good fortune of having Craig train three of our dogs, and many of the puppies from litters we have had. We have witnessed first hand the care and professionalism he takes with the dogs entrusted to him. He has always treated our dogs as if they were his own.
We have trusted Craig with our dogs and have recommended him to several of our close friends because he knows his dogs and has a special way of getting through to them.
Fly-n-Gun Kennels is a first-class operation. They keep things clean and safe for all dogs being trained. -- Jim and Lisa Johnson of Green Bay, Wisconsin
Photo of Jim with Missy, his son Doug with Abby, and Craig with TJ after a Big Rock Club Hunt.
---

We have had the pleasure of knowing Craig and Teri Steinbach since 2005. Our German Shorthair Pointer "Trigger" is a long awaited dream come true for our son Jamie and ourselves. We have entrusted his care and training to Craig since he was six weeks old. We would recommend Craig and Teri and Fly-n-Gun Kennels to anyone. -- James and Renee Palmer, DVM of De Pere, Wisconsin
Read about the accomplishments of Jamie and Trigger in the Wrightstown Area Spirit newspaper article titled "Palmer shoots to the top of youth bird hunting." Permission to post this article on our site was given by Ms. Rachel Johnson, Editor of the Wrightstown Area Spirit.
---
After meticulously combing the databases of dog trainers in Wisconsin, we brought our dog, Jake, to Fly-n-Gun Kennels for training in upland bird hunting and obedience. We consider Jake a son, so it was very important to us that we found someone we could trust to provide the best care and training. As soon as we began talking to Craig we could sense his passion for dogs and his love for training and hunting with them. As he went on discussing the training techniques he utilizes, we realized his love for dogs permeates through the way in which he trains them. He views and treats the dogs he has in training like they are his own. He literally "has a conversation" with the dogs and uses persistence until they can understand the concept.
Not only does Craig spend many dedicated hours working with the dogs, but also clients as well. I was so impressed with the way Craig encouraged us to learn and understand the concepts he was teaching the dogs. It was really fun and interesting to take an active role in the training of our dog. I wouldn't have done it any other way.
After the initial month of training put on Jake, we decided to have Craig put an additional month on him and have attended our first field trial with Craig. Not only are we extremely satisfied with the way in which Craig trained Jake, but we have gladly referred others to him, whom were also satisfied, and we will continue to do so. --Greg and Megan Slamka of Antigo, Wisconsin
---
A thank you given to us from one of our youngest clients, Savanna, daughter of Keith and Jaci Birnschein of Sturgeon Bay, Wisconsin.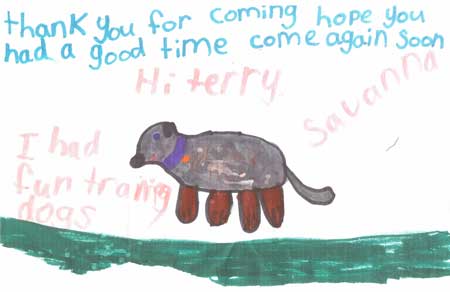 ---
HOME | TRAINING | TITLING | ABOUT US
© Fly-n-Gun Kennels, L.L.C.