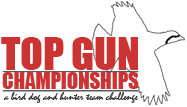 Welcome to the Top Gun Championships website!
Thank you to all who attended the
ELEVENTH ANNUAL
TOP GUN CHAMPIONSHIPS
a National Bird Dog Circuit Super Major event
on December 13-14, 2014
at Little Hills Hunting Preserve in Gilman, Wisconsin!
Eleventh Annual
TOP GUN
FLUSHER AND POINTER CHAMPIONS



BELLA
LABRADOR RETRIEVER
Handler Tim Samelstad
Owner Mike Vaughn

JOEY
ENGLISH POINTER
Handler Mark Sweeney
Owner Adam Vonnahme
ELEVENTH ANNUAL OVERALL RESULTS

TGF
|
TGP
|
AF
|
AP
|
LP
|
MP
|
PF
|
PP
|
YP
Thank you for an exceptional Eleventh Annual Top Gun Championships.
The Top Gun Championships
Event Mission
The Top Gun Championships
strives to provide a quality, fair venue
for determining the most consistent
and therefore the best
upland bird dog and hunter teams
of the weekend.
How do we strive to accomplish this?
We work very hard to ensure that scorekeepers are knowledged, bird setters are skilled in providing a challenging hunt, birds are quality flyers, questions are resolved quickly and fairly according to BDC rules, and players receive their results and awards in an error free and timely manner.

We feel it is imperative that the event host site is family-friendly, offering a comfortable and enjoyable atmosphere while you are away from home. After all, it is not only the excitement of the game and love of our bird dogs, but it is also the true friendships that we have developed that keep us coming together to play this game.

We give our most sincere thanks
to all players, staff, and clubs
who supported us and this event
in the years past and present!
---
HOME | SERVICES | TOP GUNS | WI SERIES | ABOUT US
© Fly-n-Gun Kennels, L.L.C.