Youth Hunting Outreach
We truly look forward to volunteering at area youth hunt educational events. We have made our way to several Wisconsin game farms over the years. The smiles are what keep us coming back. The time spent with these young men and ladies is priceless.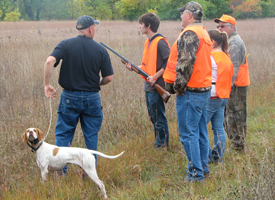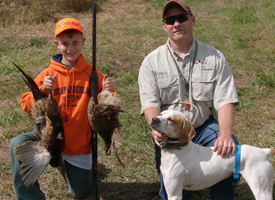 A youth event that we assist with on an annual basis is the Little Hills Hunting Preserve Youth Hunt that takes place just North of us in Gilman, Wisconsin. Little Hills puts on an exceptional experience to approximately 140 youngsters ranging in age from 10-16 years. Plenty of activities fill the participants' day.  They receive a thorough review of hunter safety, watch demonstrations of what will happen in the field, shoot 25 rounds of sporting clays, learn about archery, and finally participate in a six bird hunt with a hunting partner and two mentors.  Little Hills provides shells, ear and eye protection, lunch, and a t-shirt to remember their fun day. Kudos to Little Hills!
---
HOME | TRAINING | TITLING | ABOUT US
© Fly-n-Gun Kennels, L.L.C.