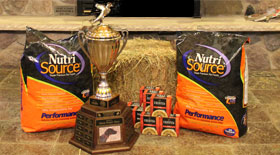 Wisconsin Championship Hunting Series
Overall High Point Dog
overview | 2012-2013 | 2011-2012 | 2010-2011 | 2009-2010 | 2008-2009 | 2007-2008
Note: The Overall High Point Dog Award will not be given during the 2013-2014 Wisconsin Series Season.
The Wisconsin Championship Hunting Series Overall High Point Dog is a new and special honor offered by the Series. This award was started in the 2007-2008 season and is an award given to the dog since dogs can enter the Series events with multiple handlers.
How is the Overall High Point Dog determined? It is based on season raw scores in the Double and Single Divisions. Flushing and pointing breed scores are mathematically equalized for comparison, as this award may be won by either. This honor is a traveling award.
To qualify for Overall High Point Dog and get your points tracked, using the raw score system, simply become a Wisconsin Championship Hunting Series member and attend the regular season Challenge events. Learn more about the Rules and Regulations for the Overall High Point Dog.